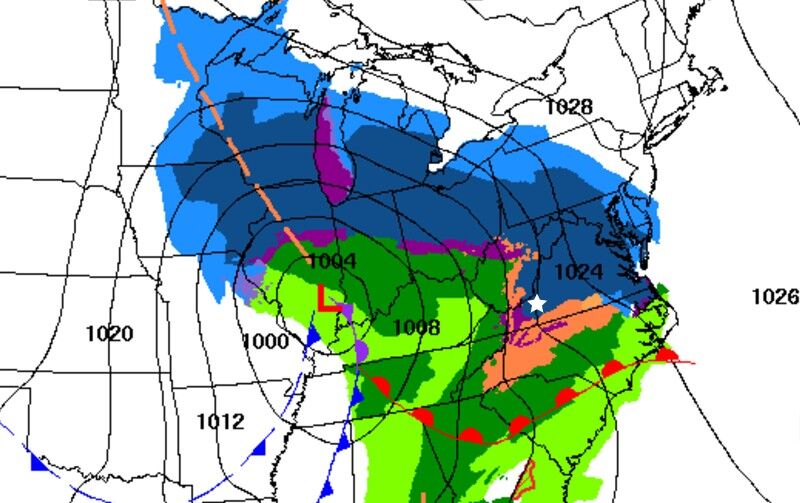 Confidence is not nearly as high in the precise outcome of precipitation types, if for no other reason a rich history of similar setups misplaying, even by the tiniest of margins, the strength of cold air damming or warm air advection.
The median projection, on this Saturday morning, is for around 5 inches of snow along the U.S. 460 corridor from Blacksburg to Roanoke to Bedford and Lynchburg, give or take an inch, lasting until about 9-10 a.m before mixing with and changing to sleet, then freezing rain, tapering in early afternoon. For every 20 miles north you can add an inch to the median snow expectation, and subtract an inch for every 20 miles south. That would get us to about 3 inches near the Virginia-West Virginia border, and 7 or 8 up near I-64.
Going west, the snow cuts off west of I-77, where milder air arrives sooner, and does similar going east past about Danville. Cold air damming, involving high pressure in eastern Canada pressing a wedge of Arctic air down the east side of the Appalachians, tapers into a "V" shape, and we're in the lower part of that V, the bottom of it reaching about Asheville, N.C.
For the immediate Roanoke area, the bookends of what reasonably could happen are vast. A stronger flow of warm air aloft, or a weaker strength of cold air damming, could result in a quick 1-2 inch plop of snow and hours of sleet and freezing rain. But stronger cold air damming or weaker warm air advection could hold the snow in until noon and pile up 7-10 inches with minimal sleet or freezing rain afterward.
The first example was Jan. 12, 2019, when an expected 4+ snow was cut short and only 1-2 fell before lots of sleet and freezing rain and an icy enamel coated the region. The second example was Dec. 6-7, 2003, when we waited all day for a presumed changeover to sleet and freezing after an early 1-2-inch snow, it never came, and we got 6-7 inches. Neither are identical copies of this setup, but enough similar to provide caution flags of what can happen.
I could list other examples of each of these over the past two decades, but I won't bore you. You probably remember well Dec. 16, 2020, when an expected early 1-3 inches of snow didn't happen and it went right to ice. This setup isn't too similar to that one -- snow is almost certain for the first few hours of precipitation, with more sleet between the snow and freezing rain. You never say never in weather, but an all-out ice storm looks to be off the table. Some troublesome ice on top of snow is a possibility. There may be scattered power outages, especially south and southeast of Roanoke.
Timing and intensity also come into play for expected totals. Generally, a faster arriving and departing precipitation shield will mean more snow, a slower arriving and lasting one will mean more ice.
As of now, it appears one band of snow may arrive as early as the mid to late evening hours on this Saturday, possibly dropping an inch or so. Then after a lull, the main precipitation band spreads across the region after midnight, arriving in the Roanoke area about 3 a.m. and lasting until about noon or so, with periods of lighter precipitation after that.
Heavier banding could ratchet up snow totals above expectations in a narrow strip just about anywhere, even if the timing of expected changeover from 7 a.m. near the North Carolina line to as late as noon or not at all near I-64 is more or less correct.
In the big picture, this is called a "Miller B" winter storm setup, with an inland low pressure system tracking over the Ohio Valley transferring energy to a developing one off the East Coast. Miller Bs are notorious boogers to forecast in our region, as we've gotten fairly big snows, hard-to-time mixed events, and total jumps over our region from Miller Bs in the past. The moisture flow into this one takes the total jump out of play, so we are on the line between a pretty big snow and a hard-to-time mixed event.
Once the offshore low takes over Sunday night and Monday, the bulk of our precipitation will be over. Some intermittent light mixed precipitation or freezing drizzle is possible Sunday night. Some guidance rotates a band of light precipitation into our region Monday, varying in depiction from snow to mix to a cold rain, but it doesn't look to be a major factor, though it could re-slicken cleared roads in some areas. From pre-dawn to about noon Sunday is our main ball game with this one.
The week ahead will follow the established nature of the 2020-21 winter, not all that cold, not all that warm. Highs will reach the 40s most days with lows in the 20s. Sunshine and above-freezing daytime temperatures will gradually melt away whatever combination of wintry accumulation falls Sunday. Some locations, including my yard in southern Roanoke County, haven't melted off Thursday's snow yet.
Early take on February pattern suggests a bit milder to start but more cold shots and storm systems down the pike. It's doubtful Sunday is our last rodeo this season trying to guess what icy particles fall from the sky.